ListPlanIt is a subscription-based service that holds over 400 lists in many categories- home management, business planning, family matters, even a "for fun" category with lists like "American Idol Journal"! No matter what aspect of your life needs to be more organized, ListPlanIt has the solution- in the form of lists you can download and type directly into or print out and file. She even has step-by-step instructions on how to create a Home Management Binder!
When I saw a review of ListPlanIt on another blogger's site (which I would link to if I could remember who had it...) I knew it was a product I needed to tell my readers about. I contacted Jennifer, the ListMama herself, and asked if she'd let me post a link to her service- and before I even woke up the next morning she had given me access to a promotional membership to test it out AND said she'd give one to one of my readers as a giveaway! She's such an amazing woman and I felt that there was a lot that we (or at least, I) could learn from her, so I asked if she'd be willing to be interviewed. She was, and so without further ado:
Susie: What gave you the idea to create this service?
Jennifer:
It was just before bed during the week between Christmas and New Year's Day. I was feeling overwhelmed and behind and was starting to make a mental note of the lists that I wanted to make to help me get back on track. I thought, wouldn't it be nice if I could just print an organized page and just fill it in? Then it hit me! I began to make a list of the lists that I would create for a website. Before I went to sleep that night, I had a list of almost 500 ideas. I was so excited! Less than 5 months later, ListPlanIt launched with just over 200 pages in place.
Susie: Are you super-organized in real life?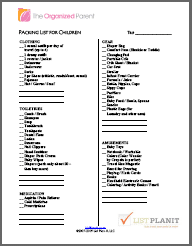 Jennifer:
My husband would laugh at this question. I love a good list, but I enjoy projects and creating things, not maintenance. Cleaning house is a drudgery to me. I would rather do anything but. However, I don't like my house to get to messy/dirty. That is what keeps me in check. I need ListPlanIt's lists and much as anyone else. They guide me and inspire me. I fall short of perfection by a mile, however.
Susie:
What are your must-download lists? Are there any that you can't make it through the day without?
Jennifer:
I love your questions! This is a tough one - like asking me which of my children is my favorite. Here are my absolute favorites, and some that truly depend on what day or season: Weekly To Do List, Menu Planner, Grocery List (I have one of ListPlanIt's Magnetic Grocery List Notepads hanging on my refrigerator), My 21 Meals, Blog Post Planner, Newsletter Lineup, all of the Financial Planning pages, holiday planning pages, and I love planning for an upcoming vacation.
Susie:
Where do you get your ideas for the lists you add?
Jennifer:
Most of them come from that list I made the very first night. Mainly, they are all lists that I have needed or would have like to have had in different situations. Sometimes, members will offer me a new suggestion.
Susie:
Do you accept idea submissions from members?
Jennifer:
Yes. I've gotten some very good ideas from members. I recently created 7 pages of lists based on someone's suggestion for a Charitable Donation Tracking List. I thought that was brilliant!

Susie:
Where can readers find a sample of the lists they'll get?
Jennifer:
ListPlanIt's weekly newsletter is called The L.I.S.T. Each newsletter has a page that subscribers can print and use and suggestions for getting the most out of it. You can also get an idea of what you might find as a member by checking out our
Trial section
. You will have the chance to view Print pages and Download a sample ePlanner, which allows you to type into the pages and save your information. ListPlanIt also has a
blog
which posts about 2 to 3 times per week and is always a new list.
Susie:
Alright, you're on the spot: make us a list! What are the top few (I'll replace "few" with the number you come up with) reasons to join List PlanIt?
Jennifer:
With hundreds of lists and planning pages available, you are sure to find plenty of help in organizing your family, your home, your business, your next project, holiday, event, meal, and anything else.
The price for 1 full year of access is so low that you will end up saving money in the long run with grocery/shopping lists, price comparison pages, financial planning pages, and lots of other pages.
ListPlanIt's pages are printer and earth-friendly. They do not contain unnecessary flourishes so that you use only the ink that is necessary to have an organized page. Print only the pages that you need. With a Download Membership, you can type into the pages and store them on your computer for future reference.
Never be without the pages that you need. Simply login to your ListPlanIt account, whether at home or at work or anywhere.
Susie: Are you offering any specials?

Jennifer: Why, yes! Get $5 off a Download Membership. That is 1 full year of access to all that ListPlanIt has to offer for just $25! (Click here for the discount page!)

Susie: Any words of advice for those of us who are chronically disorganized?
Jennifer: Lists should be considered goals. They are what we are trying to achieve. If we don't reach our goals today, there is always another day. They are not meant to be used as something to beat ourselves up over. Build a Home Management Binder and keep it in a convenient location. Refer to it often.
Jennifer Tankersley, Founder of ListPlanIt
Now here's the fun part- one reader will score their own download membership! That will allow you to get all 400+ lists in a downloadable format, which you can type directly into or print out and fill out by hand! Here's how to enter:
Mandatory entry:
Go to
ListPlanIt.com
and tell me at least one of the lists you would love to download.
Extra entry:
Follow @ListPlanIt on Twitter
here
& leave me a comment saying you are and your username.
Super extra entry:
Make a list on your own site and add it to the Linky! It doesn't have to be a new list, either- if you have made a list on your blog at any point, add the link to that specific post. This will count as THREE entries!
Not required but would be super awesome of you:
Follow me on Twitter
here
Subscribe using Google Friend Connect (left sidebar)
Subscribe to my main blog
here
Fan me on Facebook
here



This giveaway will end on Sunday night (4/18) at 11:59pm PST. Good luck!